Training & Recovering
When to start training and how to best recover
Hello, hello. If you were looking for last week's newsletter, I'm sad to say that it just didn't happen. I felt real guilt for about 2 hours - should I cram it in and do it? And I ultimately decided that my sanity and Thanksgiving day was a tiny bit worth not stressing over. So alas, my streak was broken, but now I'm back!
Two weeks ago, I wrote about the best time to start training for a race. My personal opinion on the topic is this: there is no perfect time to start training. I strongly suggest that if you're going into uncharted territory (ie: never having run a marathon before) that you get in shape before you start training for the race.
You can read that post here.
---
This week, I looked at my new favorite toy - the Sonic X Percussion - and how much I LOVE using it. It's light, powerful, quiet and a real joy to use on sore/tight muscles. My favorite spot is definitely my calves, followed closely by my glutes.
You can read that post here. If you think you might be interested in getting your own Massage Gun, use my Amazon link. *Just know that this is an affiliate link and I receive a commission if you purchase something with the link.
Friday's Action Plan:
Spend time creating a calendar with all your important races on it. Give yourself enough time to properly prepare for the race.
What's Got My Attention:
Article: 7 Ways to Infuse Fun into Fitness
Video: This Brooklyn Criminalist Qualified for The Olympic Marathon Trials
Popular Articles on the Blog this Week:
Why All Runners Should Keep a Training Log
Strength Training and Base Miles
Quote of the Day:
"Forget all the reasons why it won't work and believe the one reason why it will."
List of the Week: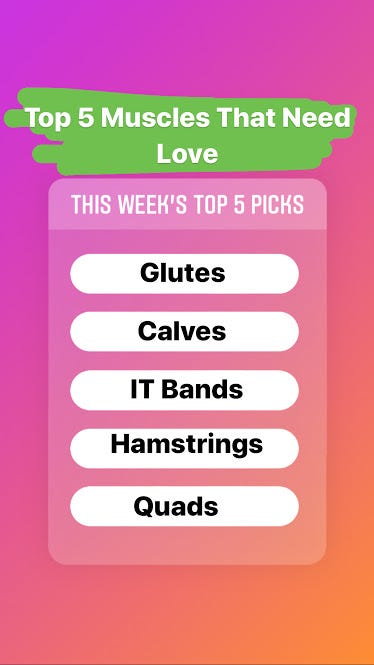 Connect with me:
I'm on Instagram
I'm on Facebook
I'm on Twitter
Here's my blog
Thanks for following along on the journey! Have something you'd like to add? Have suggestions or comments? Email me: TrainwithMarc@gmail.com
If this resonates with you, I would love it if you could share it.
---
Marc is a middle school teacher and coach but also works with distance runners online. I help distance runners around the globe by providing support, writing customized training plans and designing workouts to help them reach their racing goals. I write for my blog every Wednesday morning and newsletter every Friday morning.