It is so damn hard believing another year is wrapping up! Man, it feels like yesterday that I started training for a marathon. (At the point I started training and all the way through most of February, I didn't have a race picked out).
Through it all, I had a really productive and challenging year and I owe a lot of it to those that I choose to surround myself with.
In last week's blog post (I didn't write a newsletter last week because my son was born early, early Thursday morning), I wrote my final blog post for 2019. In 2019 alone, I wrote 50 blog posts that I believe are written to help distance runners. I am hoping to replicate that in 2020, with one small change: I want to be way more efficient.
In 2019, I ran my first marathon. The training went so well - everything clicked and I thoroughly enjoyed every run. If and when I do another, I'll be sure to pick a flatter course and I'll get someone to do some of the training with.
One of the biggest things I am still learning (I'm somewhat stubborn when it comes to this) is how to not stress over things I can (or cannot control). I think the key is to have a plan, don't mess around with stuff that doesn't matter, and if it still doesn't get done, then it's ok!
Friday's Action Plan:
Enjoy yourself. Take 15 minutes a day to do something that you truly love to do. It might be organizing, running, cleaning, coaching or something completely else.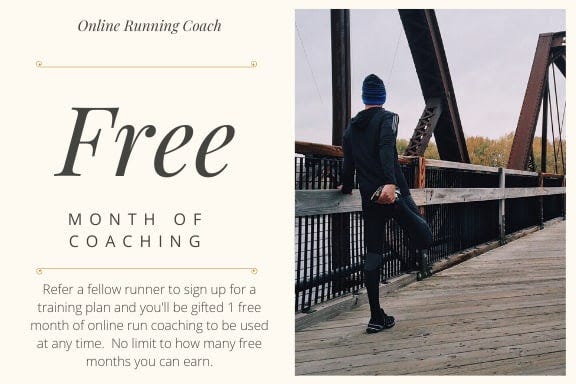 Big Events Coming Up:
New Year's Day Runs
What's Got My Attention:
Article: Why Tinman Elite Thinks they are the Next Elite Running Team
Video: Boys Footlocker Finals Race
Video: Girls Footlocker Finals Race
Popular Articles on the Blog this Week:
Heel Striking vs Forefoot Landing
Strength training and base mileage
Quote of the Day:
"If it doesn't challenge you, it doesn't change you."
List of the Week:
Connect with me:
I'm on Instagram
I'm on Facebook
I'm on Twitter
Here's my blog
Thanks for following along on the journey! Have something you'd like to add? Have suggestions or comments? Email me: TrainwithMarc@gmail.com
If this resonates with you, I would love it if you could share it.
---
Marc is a middle school teacher and coach but also works with distance runners online. I help distance runners around the globe by providing support, writing customized training plans and designing workouts to help them reach their racing goals. I write for my blog every Wednesday morning and newsletter every Friday morning.